OUR STORY
The I Have Resolve Foundation began out of love. Love for our son who had Duchenne Muscular Dystrophy. Our son Jason, who had very little physical strength showed us more personal inner strength and courage then we thought possible. His message was one of resolve. As his disease progressed he asked us not to worry, "whatever happens, I Have Resolve". We began to live by this motto.
We hope that Jason's message will bring strength and courage to others in life. In particular, as a Foundation we look to promote a message of inclusion. Our focus is to promote awareness and inclusion support of persons with disabilities. We understand that social opportunity and inclusion within the community is essential to everyone's wellbeing. We work to support events, community causes or individual needs that support inclusion for all abilities.
In loving memory of our inspiration, for Jason "We Have Resolve".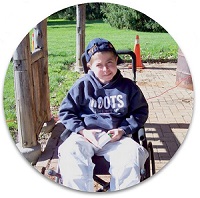 INCLUSION
To embrace all differences and bridge the gap between those with and without disabilities
KINDNESS
To embrace all differences, participate in all life's activities equally and ensure we all belong
FRIENDSHIP
To face the challenges together no matter the size and be accepted for who I am
AWARENESS
To raise awareness, promote caring and share with you our resolve for those in need
ORDER A ROSE
"One of the most beautiful qualities of true friendship is to understand and to be understood. A single rose can be my garden… a single friend, my world!"
Through wonderful friendship a rose has been named in honor of Jason.
Jason's Resolve Roses are available for purchase in the Spring.